Winnemucca Inn's Preferred Rewards Card
The Winnemucca Inn is Winnemucca's only intimate first-class casino, offering popular games for your gaming pleasure, twenty-four hours a day!

Players have been known to come from all across North America to play at The Winnemucca Inn.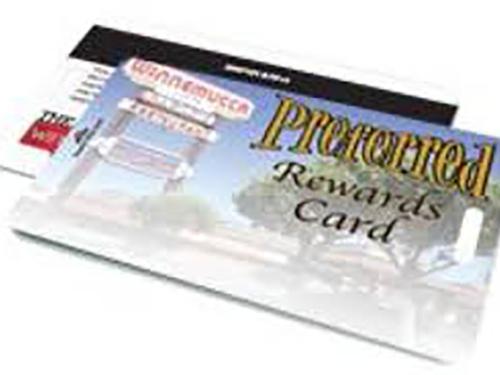 The Winnemucca Inn's Preferred Rewards Card was designed to reward each one of our guests, wherther they join us to dine, play or stay!

Cardholders are rewarded several ways:
Cash Back Rewards
Downloadable Free Play
Discount On Meals In Our Restaurant
Exclusive Room Offers
Birthday and Anniversary Specials
Special VIP Casino Parties And Other Events
We got you covered! Nevada means gaming, and The Winnemucca Inn has your options covered with around the clock casino fun!

With some of the newest, and state-of-the art slot machines, our intimate casino is a favorite of players from all across North America, and especially with the locals. Unlike some casinos where it seems like you have to be a marathon walker to reach your favorite machine, getting around Winnemucca Inn is not a chore. And if it does feel like it, ask any of our friendly Slot Hosts, and they would be more than willing to accomodate your needs.

State Of The Art Slots
With our recently updated SDS ticket system, players can easily move to a different game without the burden of carrying and reinserting coins. No more dirty hands, just a simple voucher.

Join Our Preferred Rewards Club
As a Preferred Rewards member, you receive points for your gaming play that can be redeemed for cash, or downloaded directly to your favorite slot machine.

For more information on our Preferred Rewards Club, stop by The Player's Club, or ask any employee for more information! Best of all, membership is 100% free of charge!

Our casino offers a variety of penny and multi-denomination machines, including the following Statewide Games:

?Statewide Progressives
?Megabucks
?Wheel Fortune

Any questions may be directed to Sales and Marketing  at (775) 623-6639, Extension 163, or (800) 633-6435, Extension 163.